CONFRONTATION RATHER THAN COOPERATION – THE VILLA SOMALIA LEGACY
By Faisal Mataan
Background
20 Years of transitional and recognized governments, President Farmaajo came to Power on 8th February 2017 for four years term in office as stipulated by article 91 of the provisional Constitution 2012. "The President of the Federal Republic of Somalia shall hold office for a term of four (4) years, starting from the day he takes the oath of the President of the Federal Republic of Somalia, in accordance with Article 96 of the Constitution."
Somalia's troubles in the past, began with the fall of the Siad Barre regime in 1991 and the subsequent outbreak of war among various clan-based factions throughout the regions, particularly in the south of the country. Since 2012, all efforts to restore peace, stability and normality of state functions have faced numerous challenges, which have culminated in a number of peace processes, agreements and more recently three major transitional arrangements. From the first Transitional National Government (TNG), established through the 2000 Arta Declaration and under the leadership of Abdiqasim Salad Hassan, the country struggled through more than a decade of two additional transition arrangements under the leaderships of Presidents Abdullahi Yusuf Ahmed (2004–2008) and Sharif Sheikh Ahmed (2009–2012) till on 20 August, 2012, with the election of Hassan Sheikh Mohamud, that ended the transitional rule.
The three successive Transitional Presidents achieved remarkable milestones: Abdiqasim and Abdullahi Yusuf both secured to administer villa Somalia, although President Abdiqasim was only administering parts of Mogadishu, due to challenges he faced with the Mogadishu based Warlords including Hussein Farah Aided of the late General Aidid's Successor, Mohammed Qanyare Afrah and Muse Sudi Yalahow who is currently a serving Senator. It was however, during the administration of President Abdullahi Yusuf that Villa Somalia came under the full control of the transitional government. From the recognition and the legitimacy of Somali government 2012 –2021, in the course of eight years period, two presidents completed their term in office.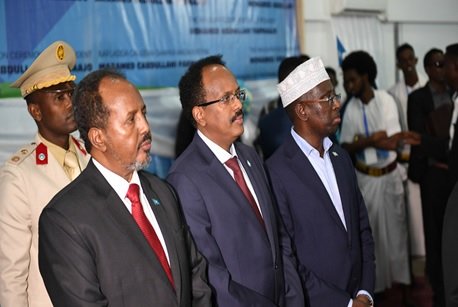 The current President Mohamed Abdullahi Farmaajo who is believed to be running for reelection, is facing a number of challenges. Based on expertise analysis and discussions with intellectuals of the Somali Community including, but not limited to youth, politicians, women activists, elders, religious leaders and current political stakeholders including National Political Associations that are registered under the National Independent Electoral Commission (NIEC), unanimously criticized the role of President Farmaajo's administration by increasing armed conflict, bribery, corruption, nepotism and clan favoritism and manipulation of national resource into clan ally groups. All the participants of the survey conducted in Kismayo, Mogadishu, Dhuuso-Mareeb and Garoowe underscored the need to tackle and raise the concern of the ordinary Somali citizen.
What is Constitution?
The vast majority of contemporary constitutions describe the basic principles of the state, the structures and processes of government and the fundamental rights of citizens in a higher law that cannot be unilaterally changed by an ordinary legislative act. This higher law is usually referred to as a constitution.
Article one (1) of The Provisional Constitution Stipulates Following paragraph:
Somalia is a federal, sovereign, and democratic republic founded on inclusive representation of the People, a multiparty system and social justice.
Article 3 Founding Principles Paragraph 3 Specifies the following:
The Federal Republic of Somalia is founded upon the fundamental principles of power sharing in a Federal system.
Does the current regime elected on February 2017 respect the Constitution?
Following the argument that current regime practices the provisional Constitution and other governing member state constitutions became baseless since it regularly abuses the constitution by forging nationalistic ticket. The so called Nabad & Nolol literally meaning "Peace and Life Group" came to power on the first of 8th February 2017 with the hope and expectation to move Somalia towards peace, stability, democracy and prosperity. The Somali Community at large congratulated the elected president Farmaajo and he subsequently appointed on February 23rd, 2017 former employee of Soma Oil and Gas British Energy Explorer Company Prime Minister Hassan A. Khaire, with parliament unanimously approving on 1st March 2017.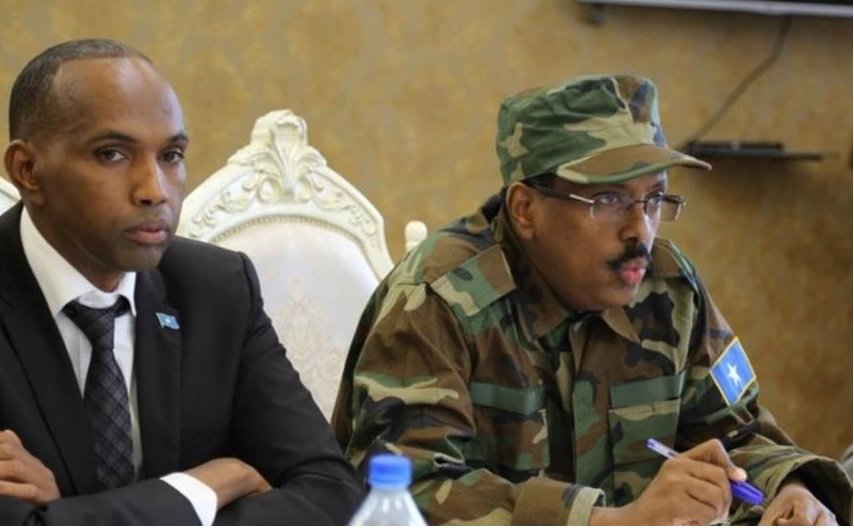 Contrary to peoples prospects, the executive branch led by Hassan A. Khaire and the Office of the President started dismantling existing structures of Federal Member States, including the Council of Intra State Cooperation (CIC). They put their action plans into practice by removing Member States that seemed not fully cooperating with their agenda of generating conflicts, establishing recruitment of loyal forces; that action plan materialized, but luckily Puntland and Jubaland survived that bid. They reduced and diverted the fight against insurgent groups including Al-Shabab and Daish/ Islamic State Groups, launched offensive wars against relatively peaceful regions such as the Gedo Region of Jubbaland, displaced civilians and accused them of collaborating with foreign nations like neighboring Kenya.
During the three years of President Farmaajo's presidency, bribery, corruption and intimidation increased to the highest levels; the selection of the Central Bank of Somalia Governor was not satisfactorily merit based, as well as the eligibility requirement criteria based on job advertisement of the governor's post. On the other hand, the government surrendered Abdikarim Sheikh Muse Qalbi Dhagax, a war veteran and Freedom fighter who as wounded in the 1977-78 war with Ethiopia. Moreover, they imposed air travel ban to specific districts of Jubaland including Kismayu and Dhoobley, which is a barbaric act and a gross violation of Human Rights. They also Politicized centralized exams; rejecting the awarding of certificates to students who graduated from Puntland Secondary Schools created unnecessary tensions.
Hassan Sheikh VS Mohammed Farmaajo–Comparison
President Hassan Sheikh Mohamud was elected on 12th September 2012 and completed his term in office. One of the milestone achieved and the left legacy to his administration was the establishing of effective and constitutional Federal Member States based on Provisional Constitution Approved in August 2012. He officially assigned expertise to sue the maritime dispute case in The Hague by establishing mechanisms and also aligned with international framework for Somalia Debt Relief. President Hassan Sheikh was the mastermind in establishing National Leadership Forum that discussed the country's political transition. National Leadership Forum was inclusive, and the decisions were appropriate to the course of the political transition. President Hassan and his Team of the Federal Members State Heads introduced indirect Electoral Process which resulted a wide variety of in-direct democratic elections. These was the ingredient people's rights and power, and obviously, people will remember Hassan Sheikh Administration for his lasting legacy of State formation. Somalia sued Kenya in 2014 in a bid to have their maritime border redrawn in a roughly 100,000-square-kilometer (62,000-square-mile) area that is thought to contain large deposits of oil and gas.
President Mohamed A. Farmaajo, in a survey conducted by the Center for Research and Professional Studies (CRPS) www.crps.so found out that 7 out of 93% of the interview respondents raised concern over President Farmaajo's character and defined him as a nationalist who hasn't have wings to fly by surrounding himself with unskilled junior politicians.
Farmaajo confessed that a lot is expected from the government including ensuring security and stability, justice sector reform, recreating sound economic infrastructure, strengthening foreign policies and relations, institution development and public reconciliation. All these promises became a nightmare when executive, legislative and Judiciary branches established a very solid relation outside of the formal jurisdiction. Accountability has been downscaling during the last three years of Farmaajo's presidency.
Although President Farmaajo signed on 21st September, 2019, The Anti-corruption bill into law, nothing credible seems forthcoming. The state of being accountable or the willingness to accept responsibility is missing in all government baranches -the Executive, Legislative and Judiciary. There is no transparency, accountability and a culture of impunity has been widespread during Farmaajo's term in office. Opposition groups were attacked, people were displaced or evicted from their residence and resources were inappropriately managed; Case in point, it's evidently clear, what happened in Gedo Region of Jubaland this month, March 2020 and the widespread corruption, such as the Barawa Airport in which authorities claimed they capitalized in partnership with the EU 4.3 million. The two other instances people are cognizant, is the air travel ban that targeted Dhoobley communities, because it happened to be the hometown of President Ahmed M. Islam. The attack on Wadajir Party Headquarter in Mogadishu; killing soldiers guarding presidential candidate and leader of Wadajir Party, Mr. Abdurrahman Abdishakur. The dead soldiers were buried with their boots. The government never apologized about this incident, and the perpetrators were never brought to justice, thus granting more access to secret service groups to intimidate opposition MP's.
Inter Communal Violence's and Conflict with FMS
Firstly, President Osoble of Hirshabelle was ousted from office, and installed President Aware the State house in Hirshabelle. Clashes erupted between communities living around the Shebelle Riverbank, resulting in the deaths of innocent civilians in Jowhar District, Hirshabelle. The clash was fueled by The Federal Government of Somalia to implement their wider agenda to destabilize the country, looking way forward for possible of term extension. President Sharif Sheikh Hassan of South–West left the office voluntarily, when he realized the government's negative interference, and the growing communal tensions, as he found evidence leakage, arranged to organize an armed forces outside of the formal jurisdiction, further noticed some of his ally friends in Asmara that there was a possible assassination attempt. The government took one more step barring Sheikh Mukhtar Roobow to partake and run for the election of the South West State in Baidoa . The Federal Government of Somalia airlifted South West State MP's to Mogadishu and distributed cash, requesting to elect government backed candidate President Abdi Aziz Lafta-Gareen.
Insurgency groups increased their attack on civilians, people starved, and unemployment shifted from 7 % 100. Pro-government candidates and the authorities based in Mogadishu led by the office of the president officials also established a network mandated to interfere Jubaland elections that was unconstitutional. These attempts failed and featured many times to create tensions internally within the Jubaland Elections and the Independent Commission. However, Jubaland communities were very resilient as the Ministry of Interior Jubaland established vibrant systematic networks of truth and reconciliation; mechanisms put in place were very strong and the people planned to assist subtly, by reporting directly to Jubbaland law enforcement agencies including the police and the courts. Jubaland elections was held peacefully as scheduled respecting people's unity and constitution , while the Federal Government of Somalia denied the results with no justifications.
The Federal Government of Somalia hijacked Jubaland Minister of Security who was en route to Addis Ababa, even though he later on escaped with the assistance of NISA Somalia. President Ahmed called for talks with Federal Government repeatedly, respecting the people's interests and the constitutional rights in reference to Jubaland Constitution, unfortunately, the Federal government did not value the democratically elected president. Galmudug warring factions reconciled and ousted extremist groups like ASWJ, liberated extremism from most of Galmudug Soil, called President Ahmed D. Gelle Haaf to be seated in Dhusamareeb to officially administer united Galmudug State. These efforts paid by ASWJ leaders became endless, when pro- government forces captured ASWJ base and ordered to arrest those who were not collaborating with the Federal Government. The Federal government of Somalia misinterpreted the constitutional rights of Federal Member States.
Puntland elections faced the same scenario; FGS invested heavily on their ideal candidate. The Sixty Six (66) Members of Parliament took the right step on the right direction, chose 1 candidate out of 21, as the most preferred and valuable person for the term. The current President of Puntland Said Abdullahi Deni had held various government posts including, a member of legislative assembly and Minister of Planning at the federal level. President Deni was one of the founding fathers of Puntland as he was a member of the delegates from the Bari Region.
Finally, the overall investment of the FGS concentrated destructively on military equipment, cash assistance and cash through wire transfer, use of unethical social media supporters to the tune of roughly $120 Million in three years term of Farmaajo's term in office, according to the Center for Research and Professional Studies www.crps.so. Negatively impacted amount of money paid by some donors supporting Somalia mainly Qatar, Saudi and Turkey that amount to $120 Million could have built and fully refurbished Mogadishu –Jamaame Corridor.
Faisal Mataan
Email: Dalka1898@gmail.com
admin@crps.so
—————
Faisal Mataan is Humanitarian Development Advisor and Political Commentator. He is the Director of Center for Research and Professional Studies (CRPS) based in Garowe and Kismayu . He holds BA in Economics and Political Science from Osmania University and Hyderabad India, and also an MBA in Elective Human Resource and Marketing from Punjab Technical University in Jalandhar, India. Currently, Mataan is the Advisor of the Ministry of Planning and International Cooperation of Puntland.